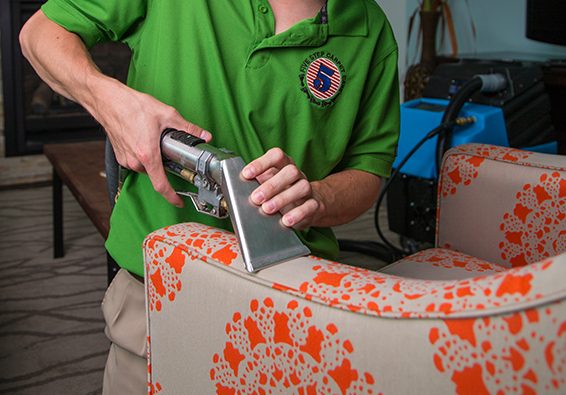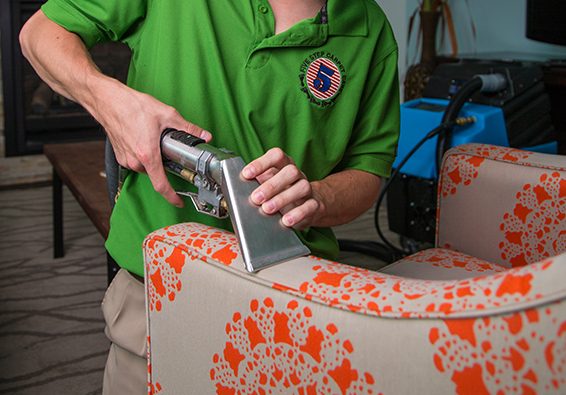 So you've got some furniture that needs cleaning. Probably the arms are stained, and maybe the cushions or the head rest. You know the upholstery needs attention, but you're not sure how to proceed. Should you hire a professional service to clean your sofa and chairs, or should you rent an upholstery cleaner from your local supermarket or hardware store?
At first glance, the rental option seems a good choice. The price is quite a bit lower, and how hard can it really be to operate one of those things, right?
Well, maybe. But let's consider all of the variables. If you rent a machine and do the work yourself, you're paying for not only the rental fee, but also the time it takes you to do the work itself, plus the cost of time and gas to pick the machine up and return it.
But that's not all. The models frequently available for rent tend to have a weaker water flow than the units used by pros, and weaker suction as well. What this means is that you will use more and more water to extract dirt and stains, and may not be able to get it all out again. If your upholstery remains damp for two days, it could cause mildew growth to develop. This is one of the most common problems we see when folks try to go the DIY route to clean their upholstery.
In addition to our better quality cleaning units, we pros also have years of experience in cleaning all types of fabrics and getting out all kinds of stains. No matter how rare the upholstery type or how outlandish the source of the stain, chances are, we've already cleaned dozens of pieces of furniture exactly like yours. (We will not raise an eyebrow at the words "chocolate sauce", take our word for it.) So when you hire a professional service with a solid reputation, you are not only benefitting from superior equipment, but also from a great store of knowledge and know-how.
If you do choose to go the DIY route to clean your upholstery, be sure to test the rental machine on a piece of practice furniture first, like that old corduroy couch in the garage. This way, you can hopefully get a decent feel for the equipment before trying it on your nice living room suite. And be careful to read the directions for the machine, as well as the ingredients of any cleaning solutions you use to ensure they won't damage your upholstery fabric or void your manufacturer's warranty.
If you live in the Asheville, NC area and are in the market for upholstery cleaning, give Five Step a call at (828) 772-1824, or drop us a line via our contact form (link). You might be surprised at how much time and money you can save by trusting professionals to clean your upholstery instead of taking the DIY risk!
https://www.fivestepcarpetcarenc.net/wp-content/uploads/2014/05/5-Step-Logo.jpg
0
0
Scott Finney
https://www.fivestepcarpetcarenc.net/wp-content/uploads/2014/05/5-Step-Logo.jpg
Scott Finney
2015-09-23 21:54:40
2015-09-23 21:54:40
Upholstery Cleaning Rental or Pro?