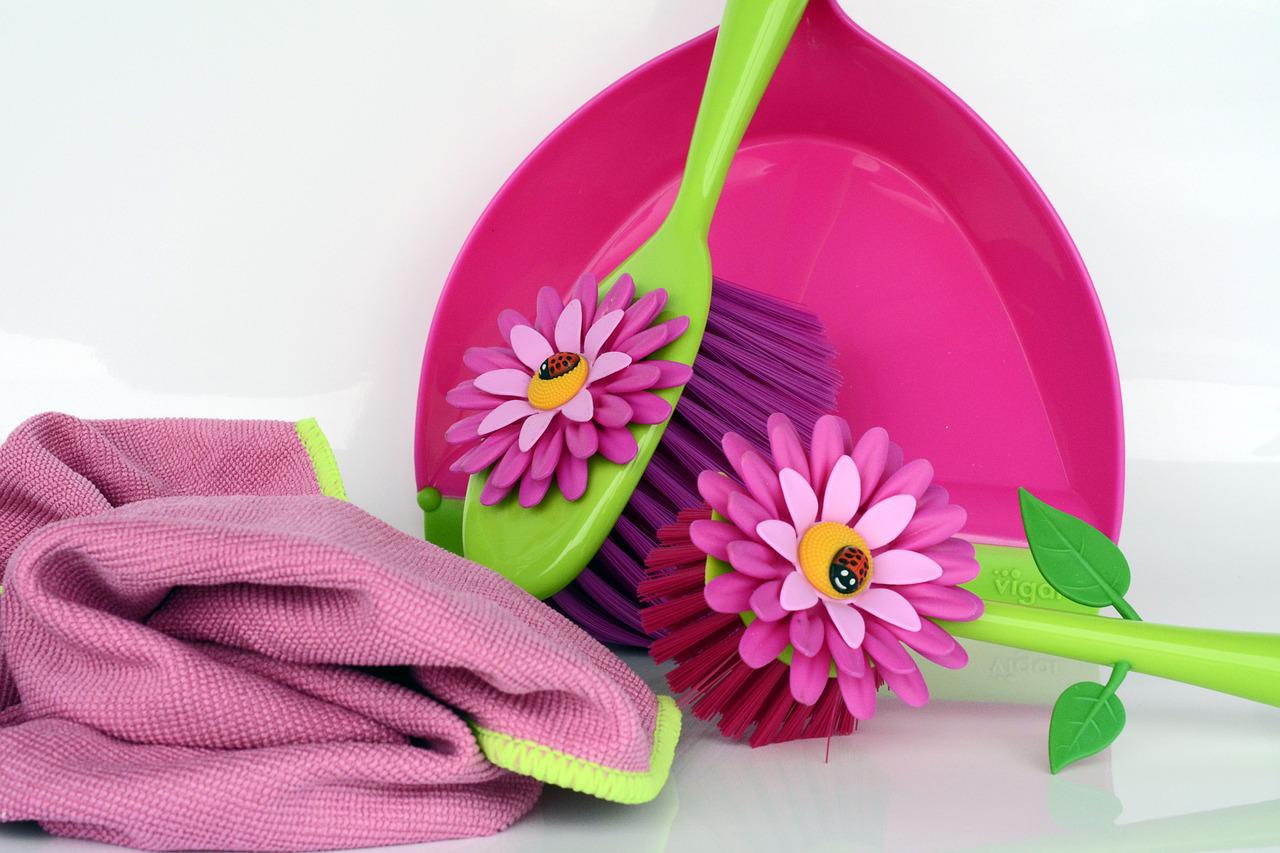 Flowers are blooming and the days are growing warmer. Spring has arrived in western NC, and with it, the urge to shake off the dust of winter. It might be an ancient instinct, passed down from humanity's cave-dwelling days, or maybe it's just ingrained in us from an early age by culture and media. But in these early days of spring, it's not uncommon for people to start feeling an itch to clean house. Spring cleaning is upon us!
Don't let the prospect of spring cleaning overwhelm you. Delegate some chores to other family members—even small children can take part. Put on some music to make the time go faster, and put in a pizza order so you don't have to deal with dinner when you're done.
Spring cleaning can also be made simpler and more efficient with a checklist. It's a bit more involved than your regular cleaning session, with focus placed on tasks that don't need to be done as often and areas you might have let go over the past year. Each household's needs will be different, but the checklist below should give you some good ideas of where to start.
Decluttering. The first step to any successful spring cleaning project is to spend some time decluttering your home. This is the time to throw out broken items, gather ill-fitting clothes for donation, organize the closets, and find places for anything you've brought into the home recently. Out with the old and in with the new!
Cobweb patrol. This is a great job for your teen or tween. They're tall enough to reach crown molding and ceiling fans with the vacuum extender, and they're young enough to not have back problems. So put them to work finding any cobwebs and dustbunnies that might have evaded your normal cleaning routine. (Pro tip: do this first after decluttering. Remember: always clean top to bottom to avoid having to clean things twice!)
Clean appliances. Start in the kitchen by cleaning out your fridge and freezer, tossing anything that's no longer useable. Then give your fridge a good deep clean, taking all the shelves and drawers out and washing them with warm, soapy water. Clean the interior of your oven and microwave, and last but not least, pull your refrigerator out and dust the coils. This will make your fridge more efficient and save a little money on your monthly electric bill!
Replace filters. Spring is a great time to change the air filters in your home's HVAC system, as well as cleaning or replacing the filters in space heaters and air purifyers. If you have an inline water filter from your well, now might be a good time to take a look at it, as well.
Curtains, drapes, and blinds. Once a year or so, it's a good idea to pull down your curtains and drapes to have them laundered, or dust and steam clean them in place. You probably dust your blinds more often than that, but spring cleaning is a good time to do that, as well.
Porches and outdoor areas. One of the great things about spring is we get to spend a lot more time outside! Prepare for games of tag, cookouts, and other outdoor activities by paying a little attention to your porches, decks, and patios. You'll want to clean seat cushions, wash glass table tops, beat any outdoor rugs, and sweep.
Linens, mattresses, and mattress pads. In the bedroom, strip the linens off the mattress and let them air out for a couple of hours before flipping the mattress. If you have a guest bed that doesn't get used very often, now's the time to launder the sheets and change out the heavy winter comforter for a lighter one.
Carpets, rugs, upholstery. Carpet, rug, and upholstery cleaning can be a pain in the neck if you DIY it. Since you've already got a lot on your spring cleaning plate, why not save yourself the hassle by hiring a professional carpet or upholstery cleaner? If you live in the Asheville area, Five Step has got your back!
Cabinet Clean-out. Spring is a great time to clean out your cupboards, cabinets, and pantries. Throw out any stale foods, re-organize the canned goods, and consider whether those old rusty baking pans are worth hanging onto. Once you've taken everything out, but before re-organizing and replacing the items on the shelves, let the cabinets air out for an hour or so. Then, clean the shelves or replace the shelf paper before putting everything back.
https://www.fivestepcarpetcarenc.net/wp-content/uploads/2014/05/5-Step-Logo.jpg
0
0
Star
https://www.fivestepcarpetcarenc.net/wp-content/uploads/2014/05/5-Step-Logo.jpg
Star
2022-04-18 12:33:52
2022-04-18 12:33:52
Spring Cleaning Checklist