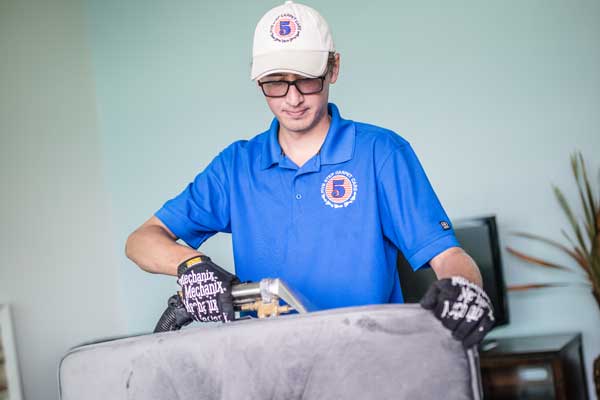 With so many options out there, it can be difficult to know how to choose the right upholstery cleaning professional for your home or business.
Good upholstery cleaners aren't always easy to come by. And unlike hair stylists, car mechanics, or tax professionals, it can be difficult to maintain a relationship with the person or business you call to clean your upholstery. This is because most upholstery cleanings occur on an as-needed basis—just when stains appear or your furniture begins to take on a dingy appearance from long-term use. Most people don't schedule monthly or even yearly upholstery cleanings in advance, and it's probably safe to say you don't have your upholstery cleaner's number memorized!
How do you know which services actually deliver on their claims? Will the provider use equipment or cleaning agents that are harmful for your upholstery fabric, or toxic for your family and pets?
Luckily, you can limit the possibility of upholstery cleaning failure. It's just a matter of doing a small amount of homework before making your final decision. Here's a quick list of considerations to check off for each company you research
How long has the company been in business? A shorter length of time shouldn't necessarily disqualify a candidate (everyone has to start somewhere!), but obviously, the more experience, the better. A well-established company is much less likely to clean your sofa today and go out of business tomorrow, leaving you unable to contact anyone in case of error or questions. If the company you're considering has been around for less than two years, find out what (if any) experience the owner had before launching the business. Look online for reviews and testimonials.
What type of equipment and cleaning solutions do they use? There are a variety of different types of upholstery cleaning systems and equipment. You can often figure out what kind your prospective service provider uses by looking on their website. If they don't have a website, that may be a red flag. If the information you're looking for isn't on the website, call the company. The owner or representative should be able to answer your question clearly and without hesitation.
How much does it cost? Some purchases in life can be skimped on without much impact in terms of quality. But upholstery cleaning is not one of them. A very low price usually means very low competence. On the other hand, if the price seems unreasonably expensive, keep shopping elsewhere. Do the math. Does it seem like a company could stay in business charging the price you were quoted, without cutting corners? If you get a quote that seems much lower or much higher than the industry average in your area, ask the owner why their price point is so different. It's possible they are running a special discount for new customers, in which case a very low price shouldn't be a mark against them.
Are they bonded and insured? No matter how great an upholstery cleaning service may be, no one is immune to accidents. As with any service provider who you hire to do work inside your home or on your property, you need to make sure the company is fully bonded and insured. Just in case.
What do their customers think? If you can't find reviews of a service provider online, chances are they are either a brand new company, or they are going to great lengths to keep reviews off the internet. Honest, competent cleaners LOVE reviews. Even if there's an occasional nasty one, the good ones more than make up for it by bringing in new and repeat clients. You can find reviews of upholstery cleaning companies in your local area by checking out paid membership sites like Angie's List, free review sites like Yelp!, on search engines like Google, and even on some social media sites like Facebook. If you don't find many reviews on one source, check a second or even a third source to be sure.
How are you treated? Let's say a company you're researching passes all five of the above tests. Great! Now it's time to give them a call or write an email. This last step will determine how the company treats its customers. When you call, do they answer right away? If not, do they get back to you within a reasonable amount of time? Are they friendly and courteous over the phone or in their email communications? Do they seem to answer your questions honestly and without beating around the bush? If the company passes this final test, you've probably found yourself a keeper. Chances are high that the same friendliness and courtesy they showed you in your initial phone call or email thread will extend to the manner in which they treat you as a service provider in your home.
We hope this post helps you with the sometimes-frustrating task of how to choose the right upholstery cleaning professional. If you live in the Asheville, NC area, we welcome you to put us to the test! Peruse our blog and website, and feel free to call us at 828.327.7233 or drop us a line with any additional questions you might have.
https://www.fivestepcarpetcarenc.net/wp-content/uploads/2014/05/5-Step-Logo.jpg
0
0
Star
https://www.fivestepcarpetcarenc.net/wp-content/uploads/2014/05/5-Step-Logo.jpg
Star
2021-03-22 13:55:33
2021-03-22 13:55:33
How to Choose the Right Upholstery Cleaning Professional