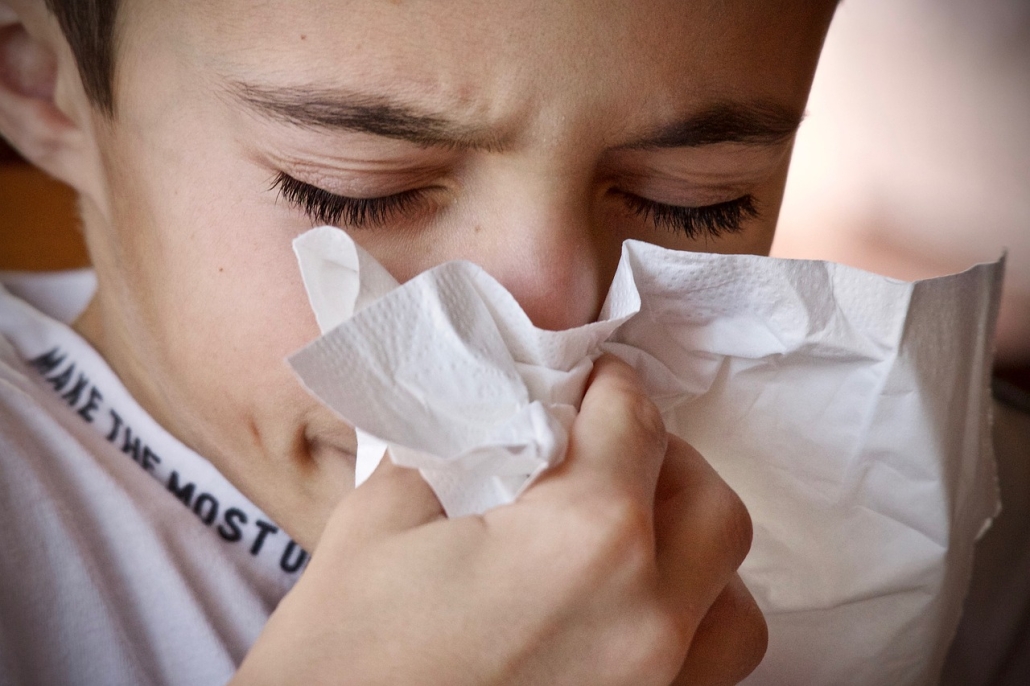 Did you know that over 50 million Americans suffer from some type of environmental allergy each year? Or that allergies are the sixth leading cause of chronic illness in the American population? If you or a family member suffer from environmental or seasonal allergies or asthma, you might want to know how to allergy-proof your home.
One of the most important things for allergy sufferers to do is to keep their home environment as free from allergens as possible. You might not be able to control what you come into contact in the outside world, but at home, there's a lot you can do to prevent allergic reactions.
Pets: If you have allergies or asthma, but you also have furry friends living in your home, it's a good idea to keep them out of certain areas. For instance, bedding, carpet, and upholstered furniture can attract and harbor pet dander, as well as any pollen or mold spores that your pets happen to bring in from outside. Keeping your pets out of those areas can help cut down on cleaning and keep your allergies at bay.
Flooring: If possible, opt for hard, smooth, flooring surfaces in your home. Hardwood and tile floors are excellent because they contain no potential allergens from the manufacturing process, do not harbor pet hair, dander, or pollen, and are easy to clean. Be aware that vinyl, linoleum, and wood laminate flooring options sometimes contain chemicals, such as formaldehyde, that can trigger allergic reactions in some people. If you are unable to replace carpets with hard surface flooring, make sure to vacuum regularly and have your carpets periodically cleaned by professionals who do not use harsh chemicals in their cleaning process.
Dust: Pay special attention to dusting if you have allergies or asthma. Dust mites may be the culprit, and you have to keep your home free of dust if you don't want to give those little pests a place to live. Use a clean, damp cloth to remove dust from tables, picture frames, and décor. Regularly vacuum curtains, blinds, and ceiling fan blades, and don't forget to edge along the crown molding. This will go a long way toward helping allergy-proof your home.
Air filtration: Using high quality air filters in your home's heating and cooling system, and changing those filters on a regular basis, can prevent a lot of suffering from allergies! In addition, you might want to use standalone air purifiers with HEPA filters in rooms where you spend the most time.
Bedding: Use dust mite-repelling mattress and pillow covers, and wash your comforter and sheets once per week. Avoid wool, feather, and down bedding materials in favor of cotton, linen, or synthetic.
Upholstery: In addition to regular vacuuming, it's a great idea to commit to periodic professional upholstery cleaning. Vacuuming alone can't extract allergens that might be hiding deep underneath the upholstery fabric, but a professional cleaning will leave your furniture healthy and allergen-free, both inside and out. Make sure the service provider you choose does not use any fragrances or harsh chemicals in their cleaning process.
Household chemicals: Many common household cleaning products contain chemicals that can cause problems for allergy sufferers. Ingredients like ammonia, bleach, sodium laureth sulfate, and triclosan can worsen your allergies or even trigger an allergic reaction themselves. And, believe it or not, these ingredients can even be hiding in all natural cleaning products. D-limonene, a natural citrus oil and common fragrance, can be particularly problematic for some people. Using fragrance-free products or products labeled "non-allergenic" can help. You might also switch out your glass and surface cleaners for plain old white vinegar and replace scouring powders with baking soda.
Cleaning routines: Staying on top of house cleaning is very important if you want to allergy-proof your home. Make a schedule and stick to it. If you find that certain cleaning chores aggravate your allergies, you might want to ask a family member to do it, or hire a professional house cleaner.
Ventilation: One common cause of allergies is mold and mildew. Since these fungi tend to grow in damp places, the bathroom is the most likely place to head them off. Use a fan while showering or bathing to force the warm, humid air out of the room. When you are done using the shower, you can also dry the walls with a towel to prevent mildew growth.
https://www.fivestepcarpetcarenc.net/wp-content/uploads/2014/05/5-Step-Logo.jpg
0
0
Star
https://www.fivestepcarpetcarenc.net/wp-content/uploads/2014/05/5-Step-Logo.jpg
Star
2022-03-16 14:54:04
2022-03-16 14:54:04
9 Ways to Allergy-Proof Your Home